Extra Life Game Day - 2022!
Glorious Ashes of Creation Community!
Intrepid Studios is thrilled to announce that we will be participating in the Extra Life Game Day event for our sixth year in a row! Over the years, we've raised tens of thousands of dollars, and we hope that this year we can continue to make a difference in many children's lives! We'll begin our 24 hour live stream on
November 5, 2022 at 10:00AM PT
.
Everyone can
watch live at Twitch.tv/AshesofCreation
for a chance to win Alpha Two access, learn new lore as we play a LIVE tabletop pen & paper game set in the world of Ashes of Creation, and more!
For more information, read on:
https://ashesofcreation.com/news/2022-10-27-extra-life-2022
---
Glorious
Ashes of Creation
Community,
📺 In case you missed it, you can now watch the highlights of our 24-hour stream supporting Extra Life and Rady Children's Hospital!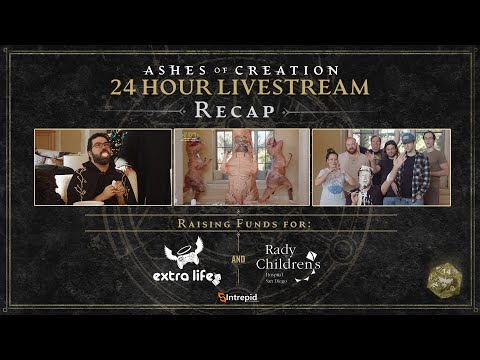 https://youtu.be/gjvrKnmBchI
💕 Thank you to everyone who donated, tuned in, and helped raise funds for this life-changing cause!
P.S.
We have an article that goes into further detail about our livestream here, on our website