The Golden Feather Podcast Series Updated to Ep. 28/36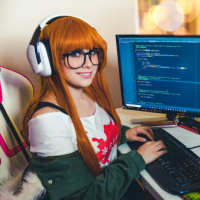 chibibree
Member, Phoenix Initiative, Royalty, Alpha One
Hello!
I am ChibiBree (a cosplayer) and I co-host a weekly podcast with
@Virtek
where we discuss news and community (mainly community). So far we have 36 official podcasts out and our 37th one is coming up this Saturday.
We Livestream every second and last Saturday at 5pm PST on Twitch:
We then upload them to our
youtube channel
I am working on updating our SoundCloud and reconnecting the Itunes- so please bear with me!
We love to highlight people in the community so if you want to be a guest, show us your art/memes/poetry etc. / or just want to continue the conversation with us in our discord, we'd love to have you!
https://discord.gg/zXGYQrv
You can also find us on twitter!
@chibibree_
@djvirtek
and
@TheGoldenFeathr
Below is a list of our videos (so far)
Ep 37: Community Matters w/ Community Manager Toast ft. Toast (happening this Saturday at 5pm PDT Live on Twitch!)