Alpha 1 Early Preview Feedback - Please share your thoughts. Below is mine.
Magic Man
Member
Hello glorious Ashes Forums people!
First I must say, for an early look at the Alpha, the game looked amazing - I could really see how the devs put their heart and soul into it so keep up the good work Intrepid! 🧡 Here's my humble feedback which I hope, combined with the views of people who comment below this thread, can help a little.
Positives:
1 -
Stunning environment and graphics in general
(the fact that this is just Alpha is mind-blowing...hard to imagine how awesome it'll look at launch). Bacon's (and other environment devs' ofc) work speak for itself.
2 -
Dwarves!
It was great to see a race other than humans. Looking forward to elves and orcs. They didn't look like short humans either so extra points for that
3 -
Quest log is nice and hidden
unless you click on it + if a member of a party takes the quest, others are
automatically
included - no needless effort which usually ruins immersion.
4 - As promised, quests felt like
actual adventures
with almost no hand holding. It wasn't a ''running simulator'' nor meaningless 'work' aka just a way to level up. Each action had let to the other and the players did not seem much 'guided' overall. The path quests took them wasn't just a casual journey from 'point A to point B' and it was filled with lots of things to do like the
random encounter
with the fisherman and gatherables along the way.
5 - Functioning shops/vendors, mayor election/use of his/her powers, basic gathering and fishing, building systems, node leveling + many more! Lots of
functioning fundamental MMO systems and some unique to Ashes
.
'Negatives' - constructive criticism:
1 -
More visceral combat
. From what I saw, Steven and Jeffrey had a few action abilities including the Crimson Blast (APOC staff ability) but as we watched from Margaret's perspective (cleric), all of the abilities were tab targeting except one AoE. Jeffrey said we'd be seeing ''Hybrid combat 2.0'' - this may be true for the melee attacks which seemed action however, ranged attacks were all tab (I think
the spear throw was a missed opportunity - could have been great if it was aimed with a reticle appearing on the screen when the ability was selected
)
2 -
More challenging PvE & PvP
. Having to focus and do things like counter and move and dodge during PvE/PvP would be a great update from 'stand and rotate the skill bar combat' of 99% of MMOs. When I say challenging, I don't only mean higher stats but mobs/classes that forces a player to react in time
3 -
Smoother animations
- The characters should feel like actual living beings rather than some avatar in game and animations play a huge part in achieving that - some of the walking animations were spot on in 2017 footages like ''It's dangerous to go alone'' (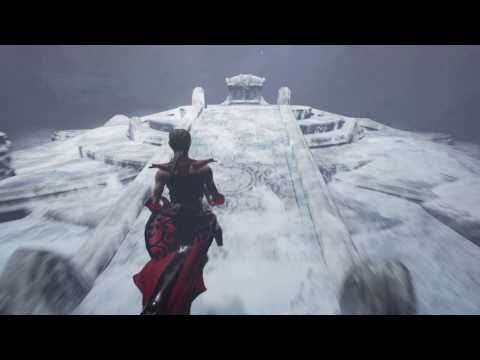 (take these with a grain of salt as it's early alpha and a lot of these will most likely improve - I just mention them as part of my feedback)
Extra - Neutral
I would like to have seen the
'action stance'
Steven talked about which ties your reticle to the mouse movement. I'm a fan of closer camera angle - like those in singleplayer RPGs (Witcher, dark souls etc) and in APOC, tho could be adjusted a little higher for the MMO. (also that way I don't use the 'A' and 'D' keys much) - So I'm hopeful that A1, if not, A2 will have that.
Although I like doing quests when I get the feeling that I'm contributing to something or/and am experiencing a great story, I love sandbox environments and the freedom they give to players. - It'd be great if we saw
what players can do without taking quests or any kind of direction from the game;
random encounter with creatures, finding oneself in an event while exploring, just grinding mobs for fun, reaching high places with a jumping mount and gliding down with a gliding mount and then perhaps landing on a new area with new people...perhaps enemies 😋. Basically imo, the player should have the freedom to ask ''What do I want to do today" and get on with it without being left behind by players who play to rush to the max level and
get the best gear before anyone else
by doing what the game wants him/her to do. I believe this balance can be achieved by rewarding such sandbox game style as long as they contribute to the node(s).
So, what did you guys think about the alpha 1 early preview - share your thoughts/feedback below ❤️