[NA] Ebonwing Court | PvX | Balanced | 18+ | Late Night
Andreas Crowley
Member
Basic InfoServer:
North America
Guild Name:
Ebonwing Court
Guild Seat:
County of Osthelia / City of Avernus - (Node Name Placeholders)
Leader:
Andreas Crowley
Pre-Launch Focus:
Establishing a tight-knit community that will thrive in a RP-Friendly environment.
In-Game Focuses:
PvX - Node Progression, Raiding, Crafting, and End Game Content.
Primary Race:
Kaelar
Religion:
Undecided at the present time. (Preferably something relating to "The Others" or "The Underrealm".)
Recruitment Status:
Open - (Actively recruiting)
Discord:
https://discord.gg/c9Aqpqu
---
Andreas Crowley - 1st Seat of the Ebonwing Court, Lord of Osthelia, and Head of House Crowley
About Us
The Ebonwing Court is an adult gaming community founded in late 2016. Led by the eccentric Andreas Crowley, we are a multi-gaming community that's full of like minded individuals that all share the same passion, Ashes of Creation. We pride ourselves on being a well established, drama free multi-purpose community that aims to be very well respected throughout the Ashes community. We have a wonderful, diverse crowd amongst our ranks, with players from all across the country. We strongly believe in a guild first atmosphere here, and we are certain that this approach will lead to our success.
Our players take much pride in not only our gaming, but our role-play as well, so if you desire a well established, well respected guild to call home, then read on and see if we are right for you! At this stage you are probably wondering if you should join the Ebonwing Court, am I right? "Of course I am." You are asking yourself,"'But what can this guild offer me? What separates this guild from the rest? What will they expect of me?" Well, let me help you answer these questions.
---
Areas of Focus: (PvX - Moderate RP)Player vs Environment
- Our main focus will be PvE. With a main and a secondary raid team we plan on progressing in all open world and instanced dungeons as well as raids, eventually clearing all the end game content as it is released.
We encourage guild members to actively help and aid each other to provide a more beneficial community and help the guild and its members thrive in a friendly and helpful social guild. We don't shun ''lone wolves'' however, we do ask that aid is given where needed if possible.
Player vs Player
- We as a guild will participate in all aspects of PvP including but not limited to, Battlegrounds, Caravan Escorts, Node Sieges, organized PvP Events, and the likes. Upon claiming a special node or castle, our guild intends on protecting our claim. In the event of hostile player aggression, we will always try diplomacy and economic solutions to resolve a situation first. However we will not shy away from a more drastic approach.
The choice is truly up to the guild member how much or how little they wish to participate in PvP. This is also the case with RP.
Role-playing
- As a thriving community we have many members who actively engage in post-by-post role-playing and have discord channels dedicated to those who wish to engage in the pastime from improv to organized fictional guild meetings and operations. Many of the guild members have very vast and imaginative back-stories and everyone is more than welcome to participate.
However this does not supersede our priority as a PvX guild. We accept it with open arms until the time comes where we organize group events and such but the role-play side of our guild is vast and we encourage participation.
---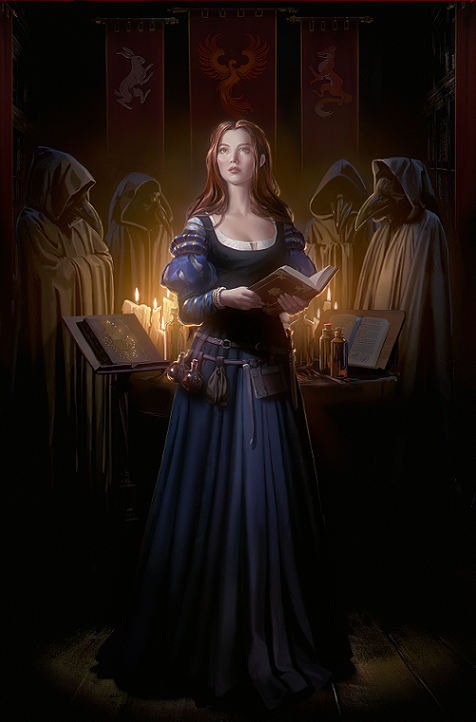 Several seated members of the Ebonwing Court meet to discuss certain agendas.
---
What can the Ebonwing Court offer you?
The Ebonwing Court is a community, a family and we look after our own! We can provide you with the safety to achieve your goals and ambitions within a dangerous world, whether your interests lie in PvE, PvP, or PvP content. We aim to provide an everlasting experience, one of continual pursuit and accomplishment. Finally, the Ebonwing Court provides its members a say in all matters of concern.
---
What separates The Ebonwing Court from the rest?
Whilst many strive and hope to achieve the above, many simply lack the resources, pro-activeness and support of experienced members. The Ebonwing Court has an extensive network of resources and members within the guild as well as those who we call our allies, all exceptionally loyal to one another and working towards a common goal. We will provide an undying interest and excitement within AoC.
---
Is this guild right for me?
If you are continuing to read this, then chances are you are at the very least, you are looking for a place to call home. Let's be honest, picking a community now in days requires a bit of effort, and I applaud you for taking the time to research us to ensure we are the right fit for you. Below is a small list of requirements and standards we expect from our players. Have a look over them, and if you like what you see and feel we are exactly what you are looking for, then I encourage you to continue to the bottom of this recruitment thread and click our Discord link in order to express your interest in joining.
---
What we require and what we expect
Loyalty, friendship and commitment to the values of our community. All we ask is that you abide by the Ebonwing Court's Community Rules & Guidelines as you enjoy yourself and become a member of this amazing community, while supporting your guild mates.
---
What is Osthelia and how does it pertain to Ashes of Creation?
We are fully aware that players will be unable to name nodes in AoC. However our RP lore needed names in order to get the ball rolling. So simply put, the County of Osthelia is a placeholder and nothing more.
---
Membership Requirements:
We will be playing on the North American server, however, we will take in players from all around the world as well. (A fluent level of English is needed.)
You must be at least 18 years of age in order to be eligible for membership.
---
Applying For Membership
Players may apply either by expressing interest in this recruitment thread, joining our guild's discord server or contacting Crowley directly. You will be required to fill out an application that will be then reviewed by our recruitment officers.
---
Warning: Joining the Ebonwing Court may cause dehydration, elevated heart rate, decreased blood pressure, and euphoria.
---