Chapter One: Winter comes to Verra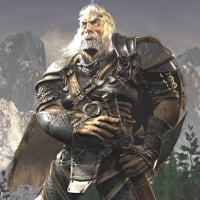 granthor
Member
The wind blows softly over and through the trees, stirring up swirls of powder as it dances in the breeze. Blankets of deep snow cover the land, while rivers are now frozen in a solid crystal greenish-blue. Gone are the green fields and blue waters, with only the kiss of frost, as flakes of white powered dance with each passing breeze of subtle wind. What life hasn't moved on to greener pastures or gone into a deep sleep in the winter land, has adapted to this way of life. Most animals make their way through the snow fattening their bodies, while still keeping an eye out for warmer places. And what food is left has become harder to find, as other creatures glean what little they can find.

In one part of the forest, a small white rabbit hops through the deep snow, peaking out ever few jumps, keeping a careful watch for others that would take it for its meal. It moves quickly to some never by underbrush, trying to find a few bits of uncovered roots, or even a few leafy shrubs or even a few small planets. It takes a few more hops to what it finally sees as food and begins to consume the small bits of planets just sticking out of the snow. It eats as fast as it can, knowing time is short, at any minute something can come for it, and at that moment it does. Down from the heavens, a hawk dives down to claim the small rabbit, but at the last second it jumps away just as the crawls of the hawk was about to sink deep into the rabbits' flesh, and it quickly escapes deeper into the under brushes of the woods.
The hawk lets of a squeal at the disappointment of losing a quick meal, but something gets its attention from the trees above, and it quickly flies away from the area. A scraping of metal to wood very slightly can be heard from the treetop. It's so slight it would go unnoticed any other day, but the air is claim and even the smallest sounds can be heard very clearly in the deep woods today. Again the scrape of metal and then the sound of a gentle breath of air, pushing out from between a pair of lips can be heard.
In the tree above sits a female on a tree stand, it's hooked to a large branch and the back of the trunk, a large white poncho mounted over top of her covers her from the weather, and a small heated lamp hangs below it that gives off just enough warmth to keep the chill away.. She is dressed in light white leather armor lined with fur, a bow hangs from a knife mounted in the side of the tree, and a quiver of arrows slung over her back. She has long golden blonde hair, that is made up into two long brads hung over both shoulders that go down to her chest, and she sports a fur white winter hat, made from a creature she hunted weeks before, and her cover is covered with a wooly white scarf to help keep the chill off her face. A pair of light blue eyes are the only thing exposed on her face, and she eyes her creation a little closer, checking every small detail of the wooden bird. The curve of the body, the details of the founded wings, and even the small beak with a park of tiny craved out eyes.
She makes a few more cuts into the wood bird she is holding, tinny pieces of wood flake away with each flick of the blade. Her skill with the craving can be quickly seen, as the shape of a small bird takes its final form. With a few more flicks of the wrist she is done, and she looks over her work very carefully, It's a small sparrow, one she only just seen a moment ago resting on a branch just above here, and it came within a few feet from her, then quickly flew away just as quick as it came. She pulls down her scarf slightly to give the wooden bird a final blow to remove the tiny loose wood fragments, then a small smile crosses face.
Her smile quickly fades, as the sounds of people in the woods gets her attention. They are about a mile away, but their words travel over the crisp air. Hearing them, she quickly puts away her little wooden bird, then puts on her fury white boots that were hanging just below her seat. And by the numbers takes up everything else she had close by, ending with placing the white poncho to cover her body, and with a bow in hand to quickly moves from the hidden area of the tree to the ground below to head towards the voices in the woods.
She quick moves along an old trail between the trees, it's not too deep with snow, and travel along it has been used by creature great and small. So much so that some areas have been worn down to sheets of ice. She listens for the party now about half a mile away, trying to get a fix on their position in the woods, but two arrows come singing from the treetops to land at her feet. She knows this was only a warning, if they wanted her dead, she would be on the ground bleeding out.
A voice comes from above calling to her.
" Why are you out of position Ebrae? You shouldn't be here!"
" I know Ryfon, but those people are moving into our kill zone, they are in danger. ", says Ebrae with concern now gripping her bow tightly.
The older Py'rai elf lowers himself down from the higher branches of the tree to where she is standing.
"I can hear too you know Ebrae, we can hear them too"
He is dress in the same type of fury white leather as she is, and he is much thinner than she is, you can see long dark green hair draped down his back from under his winters furry hat. She takes a couple of steps back, knowing he is a lot stronger, even at his age, and pulls down his scarf to show his face to her. It's a stone-cold expression, one she knows all too well, as he moves forward to take hold of her chin with his right hand.
" I told your mother I would keep you safe, and here you are on the very trail I told you to stay off, and in the middle of the great hunt. Why do I put up with you Ebrae? ", say Ryfon removing his hand from her face.
" Cause your in service to my father as well, and you don't want to disappoint him. "
" Yes, your Kaelar father, what your mother saw in him I will never understand, but they made you and here you are. As they keep telling me the best of two worlds. ", he says now whistling and signaling to unseen figures in the treetops.
At the moment ten more Py'rai elves come down from the treetops and quickly move to Ryfon side. All of them sport to same winter leather, and they stand ready for their next order.
" Ebrae might be half a Py'rai and too young to understand how we do things yet, but she is right. Our target is moving off towards fresh meat in the woods, and we need to go save them and this hunt. Ebrae, you think you can keep up with us? "
She pulls her scarf down to show a small smile.
" No can you keep up with me? "
With those words, she dashes past the group of Py'rai elves, as they quickly rush in behind her.
In the distance screams and calls for help echo through the woods, and the sound of battle fills the air as armor and shields can be heard taking a beating. Ebrae grows deeply concerned now, the beast they have been hunting has turned to attack these fools in the woods, she wonders will they be too late to save them?

To be continued?