One more time. How the PK system works and what the intention of the design is.
George_Black
Member, Intrepid Pack
Further more on PK and /trade.... A person said "what if you walk to a secluded place and you trade with your friends?"
Well.... if you manage to walk away from the scene of the crime, without being followed by a bunch of non-combatants with pitch forks WHY wouldnt you kill mobs with your friends to burn off the corruption points? Why /trade and die multiple times? ...
Some people argue for PK players to be prevented from /trade. Boy you don't know the panic during these ... corrupted times... how many times PKers have accepted a /trade and it wasn't their friend...
Some dont mind PKs being able to /trade. I dont mind if they can trade. And if they can't I won't lose sleep over it.
Some other people have been here for a couple of years and they still don't know the details and they choose to offer suggestions, altering its nature. Why? There are countless topics explaining it. This is part of an old post of mine, explaining, once more, how the corruption system works. The bellow is how PK worked in L2, the inspiration for AoCs design. A logical person would think "a game can take the best parts of another and improve upon them". What is "best" depends on your POV so.. luckily it's up to Steven to pick and choose. Nobody elses POV matters. Now a person lacking logic would say "aOC isN't l2" at which point further conversation isn't needed. Anyway here it is:
Killing a player that doesn't fight back gets you let's say, 600 corruption points and 1 PK score.
If you have 4 PKs you may lose gear upon death. With every new PK you will gain significantly more corruption points. Same goes if there is a big lv difference between the red and the victim. However the corruption system is not here to deter PKing. It's here to deter killing sprees. And that is why Red players don't drop items if they only have 3 PKs.
There are NPCs OUTISDE of towns that offer 'repentant' quests to write off 4 or less PK with every quest.
Burning 600 corruption points may take 5-10min killing mobs. During this time non-combatant players can kill a red player and take his/hers items.
Obviously If you go on a killing spree, I bet you will go down, rightfully so.
Obviously if you go around looking for a newbie to kill, I bet you will go down, rightfully so.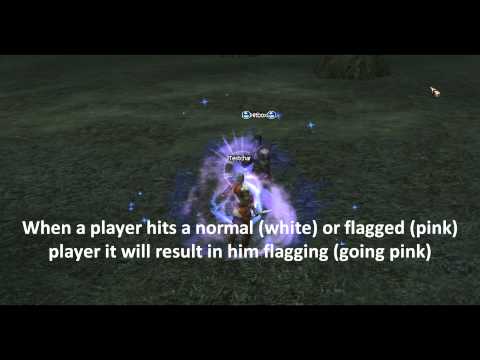 https://www.youtube.com/watch?v=DeKhbtog_pI
Here is the Corruption System working on the most successful open world PvP mmorpg.
If you are afraid that other players are out there to PK you 24/7, while you are fishing of birdwatching in the world of Vera, I say to you, not everyone is willing to risk being hunted and losing their gear to stop you from chasing butterflies.